Now We Know How Democrats Can Win...
Nov. 6, 2019 4:57 pm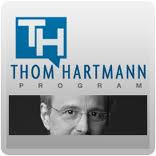 Well, now we know. The way for Democrats to win is by campaigning on the Green New Deal, debt free college, strengthening Medicare and letting it negotiate drug prices, free insulin, and covering every person in the state who doesn't have health insurance with Medicaid. Polling ahead of the election in Virginia found that each one of these positions polled well above 50% among the general electorate. And now that electorate has flipped the entire state blue, as many of the candidates running on the Democratic side explicitly embraced a fully progressive platform. Candidate Joshua Cole even ran on ending cash bail and flipped a seat in the Virginia legislature where a Trump-supporting Republican had won overwhelmingly in the last election. While America's corporate media won't enthusiastically report it, Democrats need to realize that returning to the New Deal and Great Society roots of the party is the number one way to win elections today.
-Thom