Dec. 10, 2019 3:55 pm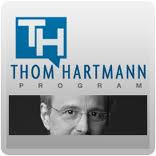 The leadership of the House of Representatives have introduced articles of impeachment, and soon there will be a vote in the House, and then one in the Senate. With this vote, we will find out the Republican Party institutionally is endorsing American politicians using corrupt foreign governments to manipulate American elections. It's really that simple.
The world is watching the votes of Republicans in the House and Senate, and countries all over the world who have tried to emulate American democracy will be recalibrating their understanding of what democracy means, based on this. The fate and future of democracy around the world is at stake.
-Thom