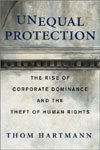 Unequal Protection: The rise of corporate dominance and theft of human rights
by Thom Hartmann

Discover more about "Unequal Protection"

Buy from Amazon
SPECIAL FEATURE
This special features covers the book "Unequal Protection", by Thom Hartmann

FEATURE INDEX
Introduction to Unequal Protection

Reviews & Commentaries

Summary of the book

Historical Documents

Chapter excerpts
Introduction to Unequal Protection
and an overview of corporate personhood.
The Boston Tea Party Revealed
America's first revolt against transnational corporate power.
What Was Jefferson's Dream?
And why did he oppose "corporate monopolies"?
The Theft of Human Rights
The deciding moment in American history.
Reclaiming the Global Dream
Is democracy still possible in America and the world?


Presidents and others - and what they have to say about corporations
Articles, ruminations and information
A collection of links - lots of interesting places to explore
A Resolution abolishing Corporate Personhood - which you can pass to educate your local community
Ordinances & Constitution - State by state