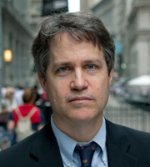 Michael Hudson is a staff reporter and Center for Public Integrity and covers business and finance for the Center.
He previously worked as a reporter for the Wall Street Journal and as an investigator for the Center for Responsible Lending.
Hudson has also written for Forbes, The Big Money, the New York Times, the Los Angeles Times and Mother Jones.
His work has won many honors, including a George Polk Award for magazine reporting, a John Hancock Award for business journalism and accolades from the National Press Club, the White House Correspondents' Association and the American Bar Association.
He edited the award-winning book Merchants of Misery and appeared in the documentary film Maxed Out.
His book, THE MONSTER: How a Gang of Predatory Lenders and Wall Street Bankers Fleeced America—and Spawned a Global Crisis, was published in October 2010 by Times Books, with Merchants of Misery: How Corporate America Profits From Poverty published in 2002.
More on Michael Hudson





More people