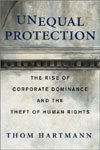 Unequal Protection: The rise of corporate dominance and theft of human rights
by Thom Hartmann

Discover more about "Unequal Protection"

Buy from Amazon
Websites you may find of interest:
Women's International League for Peace and Freedom
One of the leading organizations working to abolish corporate personhood

Program On Corporations, Law And Democracy (POCLAD)
POCLAD is one of the leaders on the issue of corporate personhood

Community Environmental Legal Defense Fund
uses denying corporate personhood to defend family farms and more.

ReclaimDemocracy.org
an organization devoted to using the revocation of corporate personhood to revitalize and reclaim democracy.

Alliance for Democracy
a chapter-based organization offering opportunities to join with others who share the goal of working to "free all people from corporate domination"

The Santa Clara Blues
by William Meyers - a brilliant site on corporate personhood issues

The Endgame.org website
A great resource for information on corporate concentrations of power and where it's leading us

Common Dreams News Center
Breaking News and Views for the Progressive Community.

www.theyrule.net
Information on the concentration of power through interlocking boards of directors

www.disinfo.com
Info on lies in the media.

Earth Action
One of the premier organizations helping to save the world.

Daniel Quinn's site.

Daykeeper Journal Online
A journal of consciousness, astrology and transformation.

The Global Citizen
Bi-weekly column by Donella H. Meadows.

www.adbusters.org
Check out their spoof ads! Brilliant!!

Robert Hinkley's proposed "Corporate Code"
as a way of changing the DNA of corporations and reorienting them back toward human values and responsibilities.

Worldwatch
One of the best organizations around.

Environmental Defense Fund

Greenpeace

Rainforest Action Network
Great links to indigenous people's sites.

Sustainability Institute
A think-do tank dedicated to sustainable resource use.

World Wildlife Fund

Marianne Williamson

www.moles.org
One of the best sites & newsletters on the destructive impact of mining.


Discover more about "Unequal Protection"